Our goal at Hefner Pools retail store is to provide an easygoing, warm, and welcoming environment for each one of our new and existing pool care clients.
We have a knowledgeable retail staff that has experience in pool chemistry and equipment repair. We will continuously strive to integrate the best budget friendly products into our store so that we can cost effectively assist each customer that trusts us with his/her pool chemistry.
We offer in store water sample testing. All water testing is completed through state-of-the-art Spin Disk 360 Centrifuge Systems that can break down and analyze all chemicals, minerals, and metals in each water sample. All water diagnoses are unique to each customer just as pools differ in size and shape. We pride ourselves in selling customers what they need and not a set list of unnecessary or overpriced chemicals.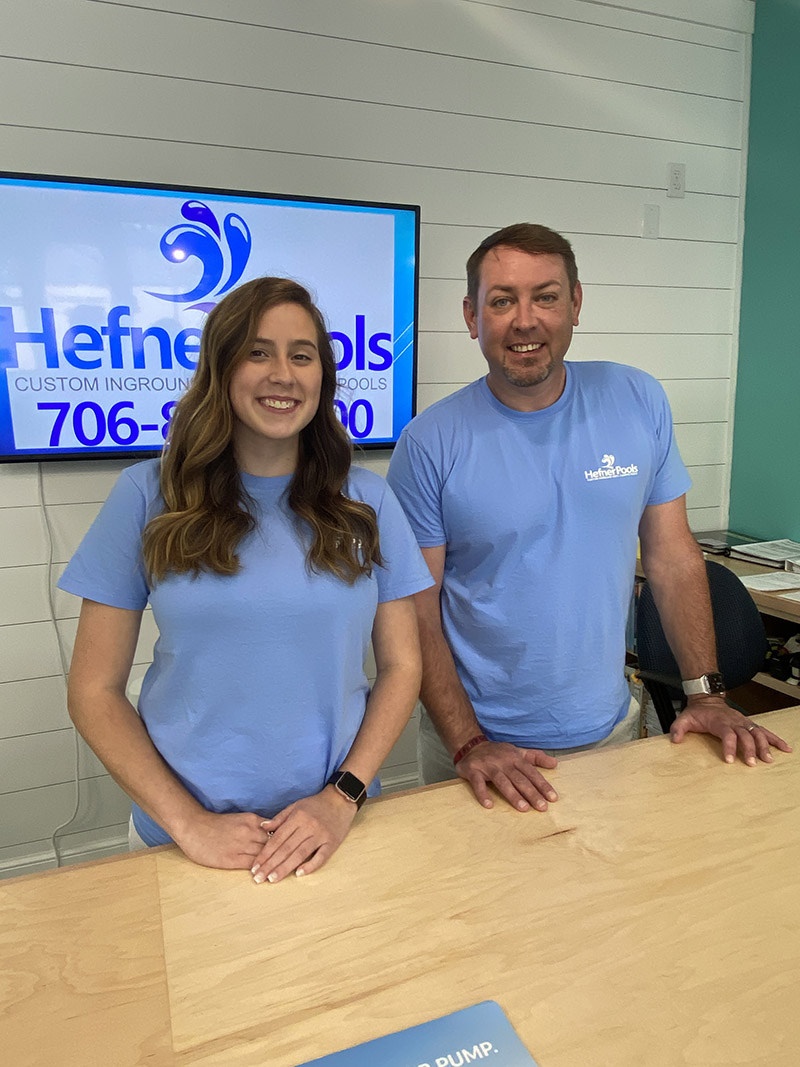 Anna Kate Hefner, Sales Associate and Rob Peacock, Retail Store Manager.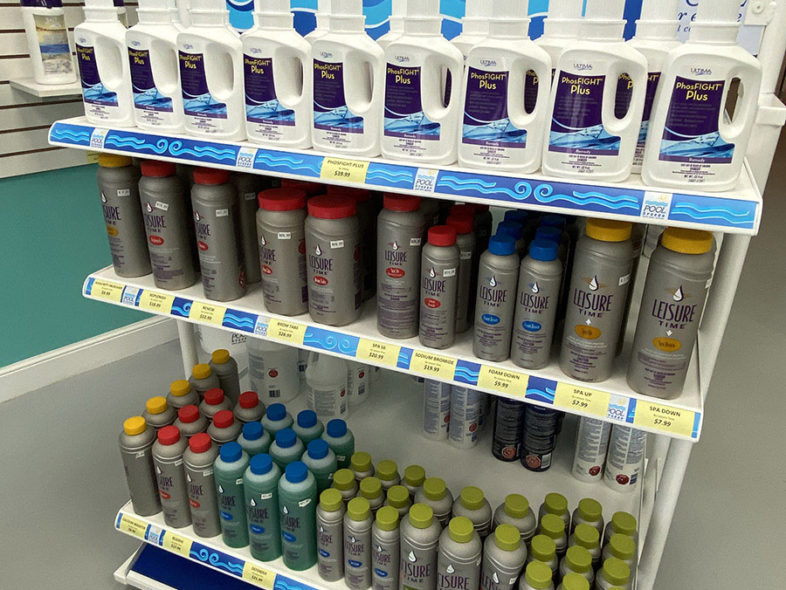 We are proud to carry Pool Breeze chemicals and can get your pool recovered within 72 hours (in most cases). Our store has a variety of chlorine options, algaecides, clarifiers, and balancing agents to fit your individual pool needs. Need Salt? We have that too! We are also proficient with most swimming pool brands of equipment. We can talk you through most equipment problems and if we do not have the answer, we will find you one! We typically carry the most common, sought after parts in our area and we can order and receive anything non-stock within 1-2 business days. Is your pool a little cloudy, turning green, or is it that you need to know which algaecide to use? We can help! Are both kids fighting over the only pool noodle? We can take care of that as well. We look forward to assisting you!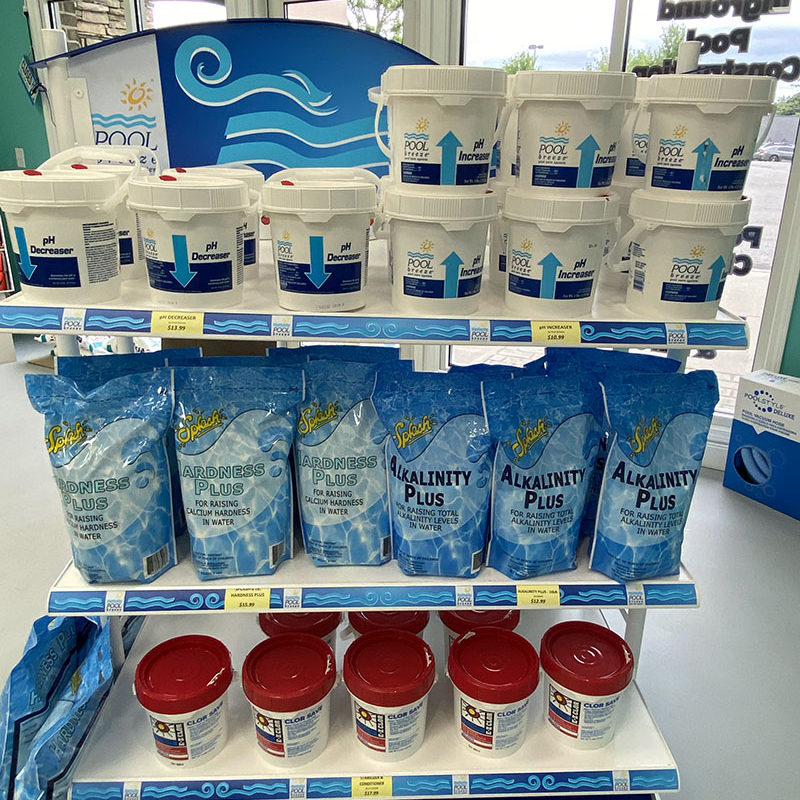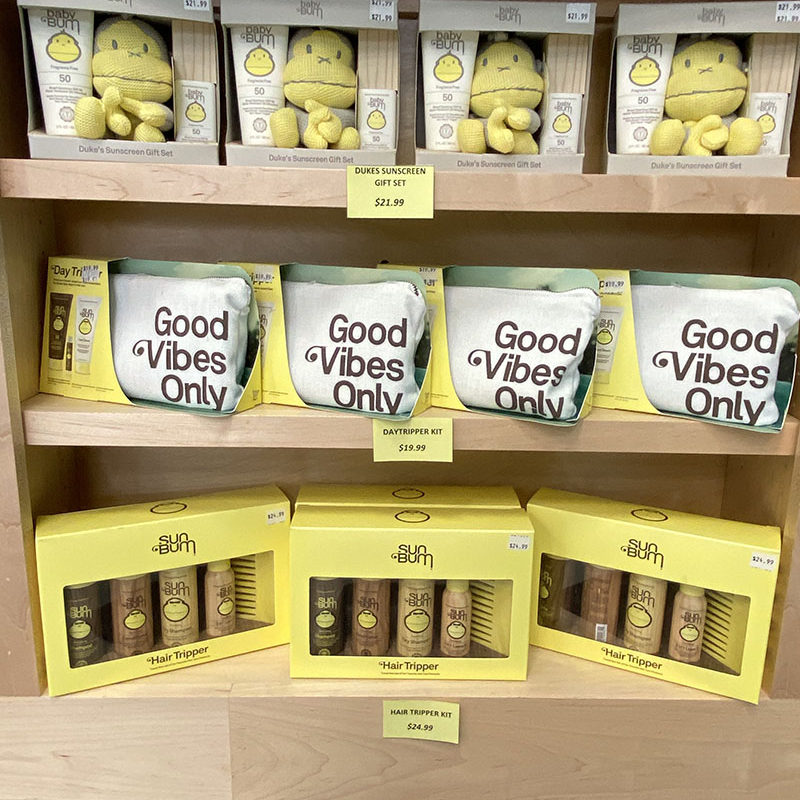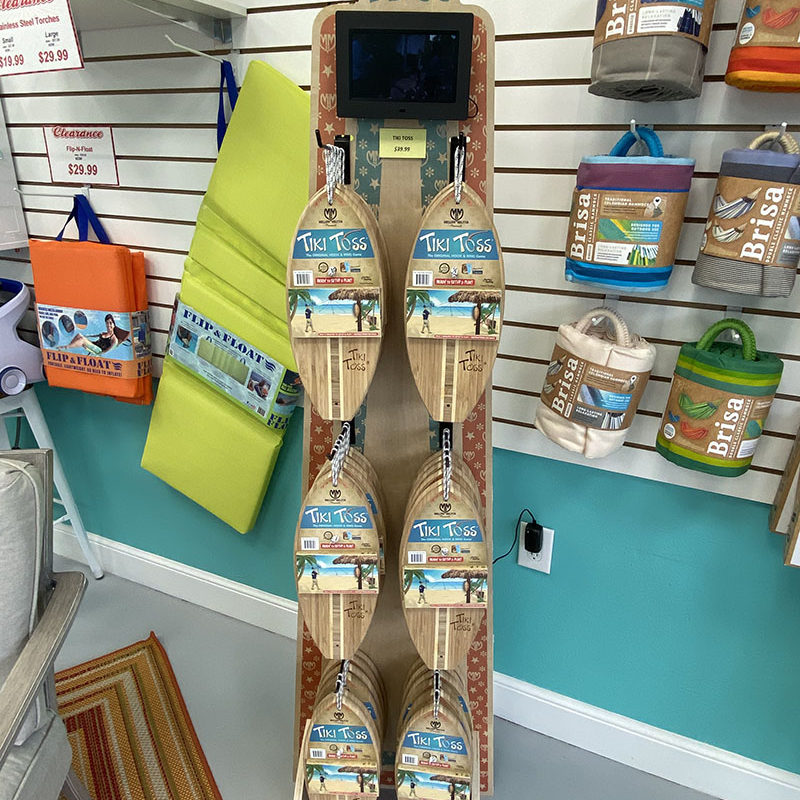 Sun Bum Products
Suntan lotions, lip balms, and hair products for babies to adults. All products are considered "reef friendly" as they are oxybenzone, octinoxate,gluten, paraben, and sulfate free. All products are vegan, and they have never been tested on animals (cruelty free). The products range from SPF 15-70.
Novelty Items
We carry a limited variety of pool and beach toys such as footballs, paddle ball, tiki toss, and water balls. We also have pool noodles, swim trainers, floats, and hammocks.
Latham Vinyl Liners
We offer a vinyl liner replacement service. We commonly use Latham Brand liners. Kafko and Plastimayd Liner brands have been consolidated under the Latham Brand. Latham brand liners come prefabricated in 3 thickness choices: 20-mil, 27-mil, and a combination with 27-mil sidewalls and a 20-mil base. All liners carry the same manufacturer's 5-year full/15-year prorated warranty against seam separation.
Hayward® AquaVac®650
Hayward's® "new" app -controlled electronic cleaner that does not require being tied into the equipment. All it needs is a 3 prong 120 v outlet and it is out-of-the-box ready to go. The cleaner will clean pool floor, sidewalls, and tile line for 2.5 hours per day on a 7-day pre-set schedule. The cleaner comes with a control center, but it also can be driven and scheduled from a phone-based app. The AquaVac®650 also comes with a carry cart for easy transport in and out of storage. The clean-up is simple. All you have to do is click out the debris containment pod and push to bottom latch lever and the debris falls right out. Absolutely a great cleaner!
Hayward® TigerShark®
The TigerShark® is an improved version of the already great electronic cleaner. Like other electronic cleaners, it does not have to be tied into the existing pool equipment. All it requires is a 3-prong 120 v outlet and it is ready to clean out of the box. The TigerShark® has a 90-minute quick clean and a 4-hour regular cleaning schedule already programmed into the control center. It also has 3 adjustable settings for the routes that the cleaner may take whilst cleaning the pool. The TigerShark® fine mesh internal bag that will pick up and retain both large and small debris. It also comes with a carry cart for easy transport.